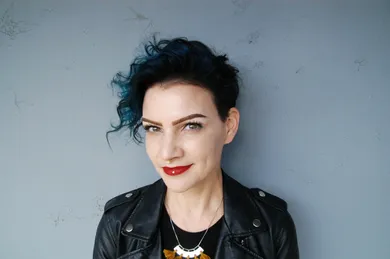 What do you love most about the industry?
You are always meeting new people, creating great relationships, and making people feel great about themselves and their hair. What's not to love?
Reasons for getting into the industry?
I have always wanted the freedom to be myself, to work with my hands, to work with people, and to be creative. Hairdressing was my answer.
Words that describe your personal style?
Fun, unique, and colorful.
What is your source of inspiration?
I work with many amazing stylist and colorists, they always keep me inspired. Trying to be the best stylist I can be inspires daily to reach for my goals. Making my clients feel good about themselves and what I do is truly an inspiration in and of itself.
How do you keep current/motivated?
We have classes all the time at DK to keep us current. I am also slightly addicted to reading all of the fashion magazines, I love them!
Who do you most admire in the industry?
I admire every hard working and diligent stylist for pursuing their dream and striving for it.
Where do you see yourself in 5-10 years?
Creating amazing connections and beautiful hair for my clients.
Best celebrity style?
Gwen Stafani, Emma Wastson, and Lady Gaga.